Plantix and Two Roads to Digital Agriculture
With due apologies to Robert Frost, when two roads diverge in the wood, which one will you take?
Few weeks ago, Shriram Farm Solutions announced their first e-commerce partnership with Plantix.
The partnership was summed up in a neat graphic that was shared by folks from DCM Shriram (the parent of Shriram Farm Solutions) and Plantix India.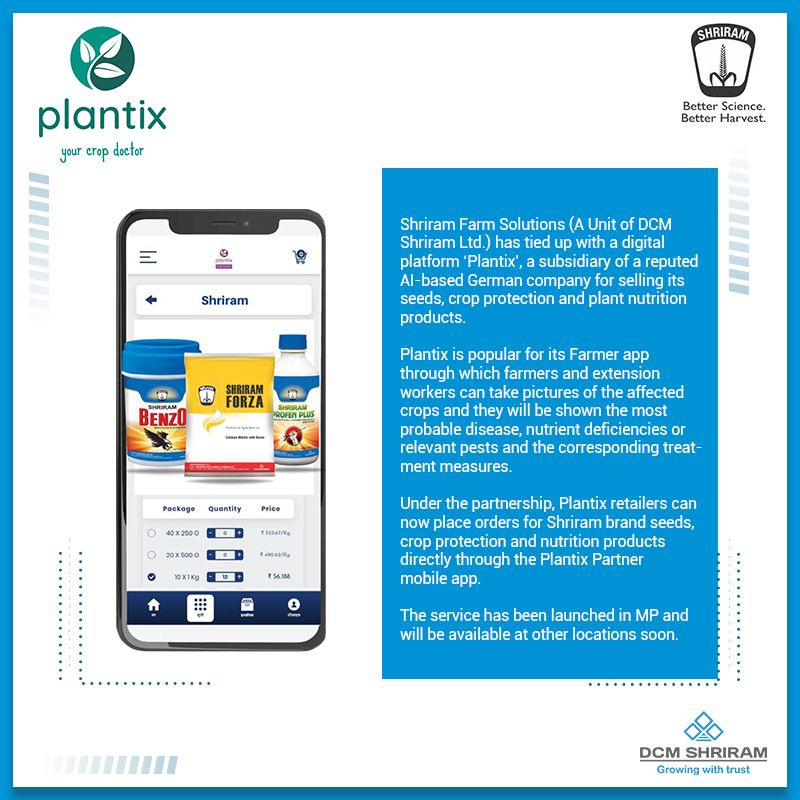 To quote:
Plantix retailers can now place orders for Shriram brand seeds, crop protection and nutrition products directly through the Plantix Partner mobile app.
Plantix Partner mobile app is the multi-brand sales bee app (whom they acquired in April 2020) which is provided to retailers, along with a credit line and the promise of transparent pricing.
Going by their official communication, what makes Plantix different from Xarvio in their approach to the Indian market is whom they are targeted towards.
Xarvio launched their scouting app in September 2019, in partnership with Agrostar, targeting "growers and agronomists" to get recommendations of crop protection products after they perform the automated analysis of pests and diseases.
Image screenshot from Xarvio Scouting Tutorial
While Plantix provides farmers with recommendations via Plantix app and retailers with the ability to receive orders from farmers and place orders to agri-input manufacturers for crop protection products via Salesbee app, Xarvio is betting on growers/agronomists to receive recommendations either from BASF (who acquired Xarvio from Bayer in 2018) or from Agrostar via their scouting app.
You can read my deep-dive into Agrostar here and here. 
Earlier in June, Pioneer announced that their new Pioneer Seeds App has added a new capability, a Threat ID tool, thanks to their partnership with Plantix.
Although collectively speaking, it seems obvious to allow farmers /agronomists/ extension workers/retailers not just do an automated analysis of what the pest and diseases possibly are, using AI Computer Vision Algorithms, but also place orders, how these partnerships play out in the larger scheme of things (read as strategy) is not very clear.
Even though DCM Shriram's official announcement has made it clear that these partnerships help in the ease of doing business in the times of COVID, they don't reveal much.
One thing is very clear though.
Plantix has spelt out their intentions loud and clear: We are open for partnerships.
In a LinkedIn post that was posted a few days back, Martin Kütter, COO, Plantix, announced Plantix's intentions with a data visualization video which clearly showed where the orders were coming from, in the last nine months, from Dec'19 to Aug'20.
Below is a snapshot of the data viz.
I will spare you from further analysis of the states where Plantix confirmed orders are coming from, across the timeline of India's three sowing windows - Kharif, Rabi and Summer.
What really got my attention was how Martin framed the announcement.
In his post, Martin wrote,
Half of all products bought by small-scale farmers are inadequate. Money is wasted, the crop not saved, the environment harmed.

Plantix cracks this challenge for millions of farmers in India. We developed a fully digital flow that connects farmers with their local retailers. We share diagnosis and recommendation with the retailer and book an appropriate product for the farmer to collect next day. We already connect with 20% of local retailers in our launch regions and rapidly scale the volume of product bookings for farmers.

Our next challenge --- What you see in the video [screenshoted above] is one per cent of the products required by our farmer base today. Please reach out to us if you have quality products for farmers and want to help us tackle this challenge.

Now that is telling us something, if you know how to read between the lines.
I am going to unpack these partnerships at a macro level and what it implies so that you learn two important lessons.
1) The streets of Indian Agriculture are not paved with gold for digital Crop Advisory players looking to tap the emerging markets with a salivating mobile user base of farmers.  
2) Essentially, for digital Farming to make strategic sense in an Indian context, there are two roads. Which one will you choose?
Shall we get started?
---
If you want to understand the underlying forces shaping strategy, a good starting point is to possess the wisdom to know the difference between horizontal and vertical strategies.
Let me start with an obvious example. Ever wondered why we are more than willing to pay a premium for iPhone?
The answer is simple: Apple understands the power of vertical integration. Apple understands that customers are more than willing to pay an arm and a leg for the look and feel, smooth-as-satin user-experience that comes as a result of owning and obsessing over every component that goes into their product.
Like, literally everything from the chips that exist in the world of atoms to the apps that exist in the world of bits.
Here is a quick and dirty annotated summary from Ben Thompson's amazing Stratechery blog. If you want the full dope, go and read his blog.
At first, Apple ensured that only those apps which are approved by them in their Appstore could be installed in your iPhone. And then, after controlling App installation, they went further vertical and integrated payment processing, making sure that Apple kept 30% of every purchase inside Appstore.
And when the ecosystem they had shaped had grown at scale with enough trust battery to ensure that customers were now willing to even share their credit card information with Apple, they decided to take the next step forward.
Today, they are the gatekeepers, owning the complete customer relationship. As Ben succinctly states in his blog,
"Users didn't pay developers, they paid Apple, who paid developers."
It is very important to understand the power of vertical integration if you want to understand how agri-input firms work in India.
Let me help you understand using a simple model.
Have you heard of Maslow's Hierarchy of Needs?
If you've studied MBA in India, you couldn't have missed this popular theory of psychology, often taught in Organizational Behaviour 101 classes,<Rant Begins>to a bunch of clueless newbees, stuck in a bee's school who are taught to master business administration by flitting around the classrooms like bees, running behind insane calendar schedules trying to grasp a wide variety of subjects.
<End of Rant>
Even though the theory is nonsensical that somehow sounds like some deep philosophical truth, there is something deeply attractive about the theory, perhaps because of the way it is structured.
Here is the structural essence of the theory: Until lower-order needs are met, we don't really pay attention to higher-order needs.
I am going to use this model to help you understand how agri-input businesses work in India.
To be more precise, I am using the model to help you understand what needs have already been met, and by whom so that you understand the current basis of competition, and get a glimpse of the key strategic forces shaping the industry.
Agri-Input Hierarchy of Needs in the Indian Context.
I am not going to give you a standard overview of each of the levels of the hierarchy. I am going to assume that you are already familiar with a basic understanding of each of these levels, as they apply in the Indian context.
What connects the dots between Apple and the way large Agri-input firms work in India is the power of vertical integration.
Agri-Input firms invest in rural credit, channel and retailing, and agricultural extension services to the extent necessary to preserve the profit margin they gain from selling agrochemical products.
This is an important point, and I want you to understand it deeply.
If you remember what I had written earlier in the Beer Game of Agri-Input Retail,
Channel in their interaction with farmers has an unsaid, but broad classification of agri-input products.

Products that are Must Have

Products that are Good to Have

Hybrid Seeds and Chemical Fertilizers such as Urea, Diammonium Phosphate (DAP) fall under Must Have category. Pesticides, Herbicides, Fungicides, Plant Growth Regulators belong to Good to Have category.

Farmers and Traders have typical behaviour about Must-Have products. From selling at thin margins to giving credit to promoting products in the market. Thanks to the way the industry is structured, Channel does not make much money on Must-Have products.

A dealer is trying to push Good to Have products to the farmers because his business thrives on that category. For Good to have products, the Channel insists that agri-input manufacturers provide fat margins, because he tells them, "I have a captive base of X farmers and I can push it. But I am going to charge you for it."

The trade channel pushes "Good to Have products" to farmers in their pursuit of the margins, long credit cycles and loyalty schemes. Whenever the sales team visits the Channel to showcase a new product, the first response from the channel is more often, "What schemes will you offer me to sell this?".
And so if you connect the dots, you would realize that the profit margins of the agrochemical products dictate the
a) credit that is offered to the distributors, dealers (depending on whether you opt for Tier-1 or Tier-2 distribution) and retailers, which in turn dictates the credit to farmers,
c)which in turn, dictates the margins that are passed along from distributor to retailers,
d)which in turn dictates the private agricultural extension services that are offered to farmers, which are disguised sales and marketing activities.
If you are with me so far, you would realize that when you place crop advisory startups and agri-input players in the same frame, this is what you get.
While agri-Input firms invest in rural credit, channel and retailing, and agricultural extension services to the extent necessary to preserve the profit margin they gain from selling agrochemical products, crop-advisory startups, on the other hand, want (Remember. They are nowhere there yet) to spread their services to as many places as possible - every agri-input firm they serve increases their addressable market.
If you look at Plantix partner website, and that's exactly what you see.
If you pay attention to Martin's announcement, it is obvious that they are looking at a horizontal play, in response to the vertically focused approach that agri-input firms have specialized in, for a long time.
Here is a visual illustration, so that you understand the difference that I am talking about.
What I've done is essentially overlaid the Agri-Input Hierarchy of Needs so that you understand horizontal and vertical strategy play and learn to discern between the two.
Understanding the strategic gameplay between agri-input firms and crop-advisory startups like Plantix and Xarvio in the language of horizontal and vertical strategies illuminates few things, and let's be honest, also obfuscates few things.
After all, all models are wrong, but some are useful.
I will look at the implications of this model in the upcoming editions.
Not many know that Robert Frost wrote "The Road Not Taken" as a joke for his friend, the poet Edward Thomas. Often when they went walking together, Thomas was chronically indecisive about the road to take and kept wondering about the road they had not taken.
When Frost sent the poem he wrote to Thomas, Thomas couldn't understand the trick played by Frost. Like most of us, he thought that the poem exhorted the reader to select one less travelled road, which made all the difference.
And so, when Frost knew that Thomas had been fully convinced, he wrote to him, saying, "No matter which road you take, you'll always sigh, and wish you'd taken another."
That's the dilemma crop-advisory startups are going to face as they stand at the fork of the road in the wood.
We will talk about this more in the upcoming editions.
Stay tuned.